This is a conversion build log of the Twinstar II, which I built originally in 2007. It's much easier to modify to FPV if the plane is not yet put together, but I still manage to get it done and you can see the various steps. I also have constructed a ground station and a charging station to go with it, among other FPV mods.  The Twinstar is a tried a true flyer and as you'll see I do some large mods to make it as stable and rock solid as possible.


Here is a rundown on the specs on the existing plane for reference. You can also view my complete original post and Twinstar II Build Guide on how I went about building this plane back in 2007 before the FPV additions(photo is from 2007).
Specs as of 5/2016
| | |
| --- | --- |
| Motors | Turnigy D2830-11 1000kv |
| Props | HQ 9x5e Counter Rotating |
| ESC | Turnigy Plush 30 amp |
| Battery | 4S 4200 35C GetFPV Lumenier |
| Video TX | 1.3 GHz 800mw RMRC |
| FPV/OSD Camera | RunCam SC2000 600TVL or Surveilzone 800TVL HS1182 CCD 2.8mm IR Blocked |
| HD Camera | RunCam HD |
| Flight Controller | EagleTree Vector |
| Control Receiver | EZUHF 8 Channel Lite |
| AUW | 74.5 Oz |
Parts
Some basic info on the default plane is that it has a wingspan of 56″ and a length of about 43″.  All prices were at the time of this writing in 2016 (project began in late 2015).
Motors: Originally I had Ripmax Xtra 2829/10, rated at 1210KV and 15 amps each, but I had the mount on one of them break in an accident a few years ago and those have been replaced with Turnigy SK3-2822-1090kv outrunner motors, now more recently switched to 2830-11 Turnigy 1000kv Motors ($10.62 x 2)
Batteries: Originally I was using Getfpv Lumenier 5200mAh 3s 35c Lipo Battery (392 grams, 13.8 oz) originally, but have since replaced with Getfpv Lumenier 4200mah 35C 4S $59.99 Lipos (similar weight).
Props: Originally Graupner 8x5e, but since the motor swap and 4S battery i've gone to 9×5 Counter Rotating HQ E-props (RMRC HQP0102-09501 $5.99 and HQP0102-09500 $5.99)
ESC: Started out in 2007 with Thunderbird ESC, but more recently switched to Turnigy 30amp Plush ESCs $24.99 x 2  
I also shrink wrapped/laminated the plane very recently, to give it some durability and also smoothed out some divots and dents in the structure.  I actually used a bit of spackling to get the job done, as well as gorilla glue.  For the lamination, I used the 1.7 mm variety from Aloft Hobbies (60 inches runs about $3 plus shipping).
My eventual AUW ends up being close to 74.5 Oz after doing a wing strengthening mod with Runcam HD, and it will be more if I switch to a camera like the Git2 (65 g / 2.2 oz).
HD Recording Camera:  RunCam HD (44 g / 1.5 oz)

Runcam Memory Card:  32GB Transcend UHS-1 Class 10
OSD Flight Camera:  CC1529 SurveilZone CCD Sony 960H Effio-V 800TVL Ulra WDR Camera OSD  (I've also been testing the Aluminum Cased RunCam SC2000 600TVL CCD as well as another 800TVL the Surveilzone HS1182 2.8mm minus the bracket).. Weight with the case is 17.7 g / 0.62 oz
Twinstar II Pan/Pod Kit (without the tilt portion) $39.59

5 minute Epoxy for the Pod Kit:  Quick Setting $2.00
Pan Tilt Servos:  Originally the HS65MG (12.7 g / 0.44 oz) $29.99 , but those had severe buzzing issues (See Part 5), ended up with: Pan – Savox sh-0262 Digital Servo (13.6 g /  0.47 oz) $26.99 and Tilt –  Turnigy MX-M801 MG (12g / 0.42 oz) $4.48
Twinstar II Pro CXN Mobius (Product 19/23) Mount $22
Video Transmitter – 800 mw RMRC (Product 12/20) $49.99, 96.38g / 3.4oz without case (i removed the case, kept heat sinks)

(Video Receiver – RMRC 1.3 ghz with Comtech Tuner + saw filters, see Ground Station Build log for more details) $54.99
Camera 12″ Cable (4 wire for cameras with audio, Product 10/52) JR Style $9.99
Transmitter Cable for OSD  (for 800 mw and 12″, product 33/52) $9.99
Transmitter Antenna Ibcrazy Cloverleaf BlueBeam Antenna (3 lobe) $22.95
5amp BEC/ Ubec  $9.99 
Microphone:  Tiny Mic $13.95 
EagleTree Vector with Wires (solder on Deans later)  $237

Vector Airspeed expander with Pitot $33.99

YCS Basics 6″ Mini Female USB Cable Extension for EagleTree access  $6.99
Control
FrSky Taranis x9D Plus (Mode 2) Transmitter $205 and screen protector $6.95
EzUHF 433 Mhz Receiver 8 Channel Lite $89.99  (10g / 0.34 oz without antenna)
EzUHF JR Module for Taranis $84.99
EzUHF Dipole Antenna (on Plane)  $14.99
30cm SMA Male to SMA Female RG316 Extension Cable $5.99
Servos for control:  HS-MG82 x 3  $22 (since my others were pretty old, i swapped em out)
Tiny Mic V2 for Audio
Goggles:  Headplay HD $250 and also now with mods for dual mode 1.3 nexwave receiver $37.99 and HMD Mini-DVR $25.99  and Quanum V2 $55 (passenger goggles also with mods for dual mode 1.3 $37.99)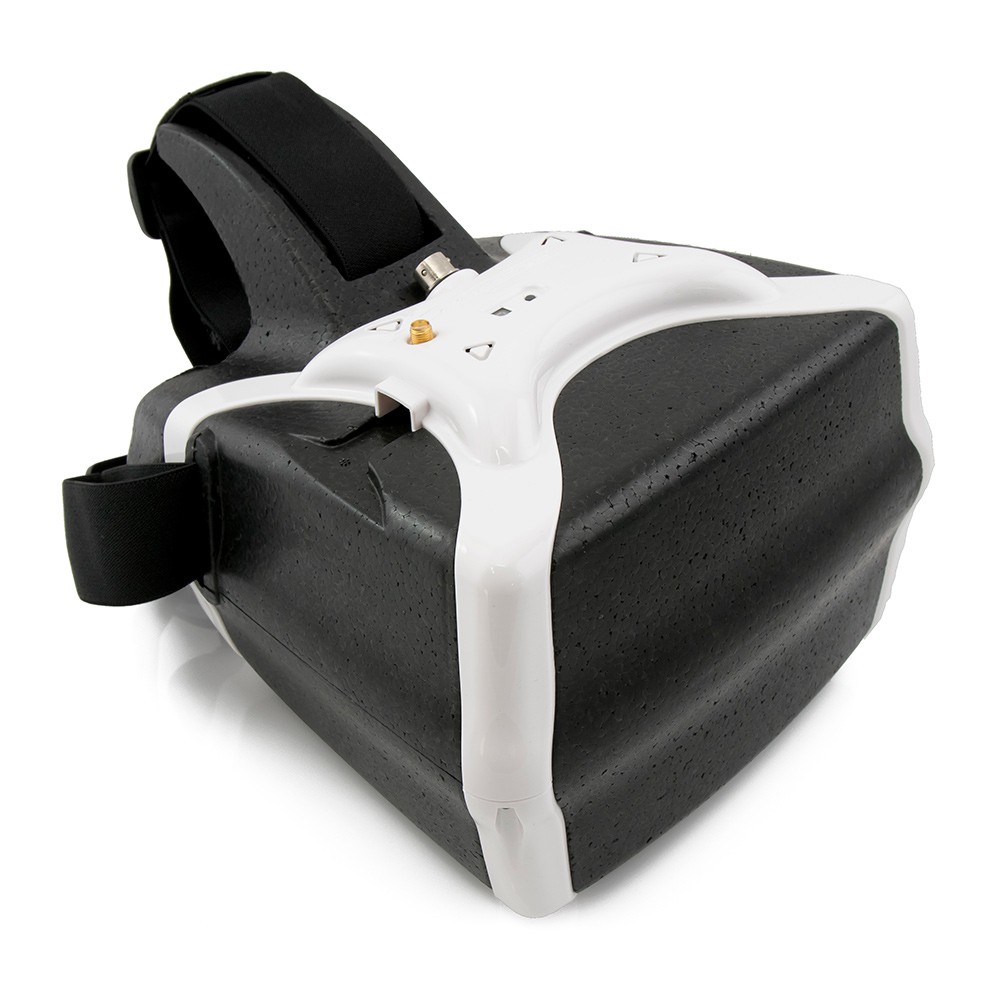 Batteries for Goggles:  I have some 1300mah 3S that work well, but for even longer life, these Zippy Flightmax 2200mah 3S ones work great $14 plus shipping.. i created a barrell to XT60 female connector to work with the headplay hds for the replacement batteries (the stock headplay has a male barrel connector)
Misc Parts
Industrial Strength Velcro $6.20
White Gorilla Glue (for the Wing Spar reinforcement Mod) $5
Double Sided Servo Tape for various components going inside the plane (Product:  Racers Edge 1502 Wide Servo Tape) $5.48
Rare Earth Magnets (for making the hatch access panels on the sides of the Twinstar II, Product:  1/2 x 1/8 inch Disc N48)
Dubro Nylon Hinges for the hatches 15 qty for $5 plus shipping
Welders Glue (for gluing things like the Nylon hinges and other surfaces) $6.24
CA Glue Medium Viscosity (Product:  Hot Stuff) and Accelerator (Refill kit, 8oz, $10)
AS1-K14 Armsafe Arming Kit $15.92
Superworm 10 gauge wire $12.99 (battery connections)
3M Surgical Tape 1″ $5 (for extra aileron security)
PlastiDip $8.99 (for coating the camera)
Servo Extension Cables (Example: 320mm/32cm female to male – $4.23 or 15cm male to male)
Servo Tester:  Hobbymate Multi-function 2-6 cell lipo compatible $9.90
Lipo Alarms (never too many):  $4.87
Deans 1 male to 2 female connector cable (need to verify if i actually used this)
Servo Rods:  Sullivan S501 Double End Rods 1.5″ 4″ 6″ 8″  $7.80
Plywood:  1/16″ ply for the wing spar strengthening mod ideally, though I ended up using 1/8″ balsa instead
Part 1
*Note.. for much more detailed explanations, be sure to check out the videos.
Video Table of Contents
Parts Used 
Making Hatches
Vector Wiring 101
Everything in Action with LCD
Bloopers/Outtakes
Hatch Creation
The first thing I had to do was create hatches on the sides of the plane to be able to install the various components into the plane, as well as figure out a way to run the antenna for the UHF Receiver, the doors come later.
Vector + Transmitter and Other FPV Wiring
One of the trickiest parts was figuring out the wiring for everything
In wiring the vector we must solder the deans connectors to the current sensor for the vector first.
A closer look after doing the current sensor mod….
Here is a closer look at the vector ports.  You can see I've opted to power the receiver via the UBEC, giving power to the ports on the left side.  Many out there say you don't need to do this, as you could just power it off the vector itself, but I felt that this redundancy wasn't a bad thing….
Note that the other thing which is critical is making sure to remove the red pins from the ESC wiring servo connectors.  You do this to avoid a ground loop.
By now I had also removed the original pins from the harness cable on the Vector and stored them away in case I ever need them.  Why add extra weight if you dont have to…
Part 2
Video Table of Contents
Taranis X9D
–Calibration
–Programming (Mode/Sub Modes too)
EZUHF 8 Channel Lite Firmware Update and Configuration
EZUHF JR Module Binding
Vector Firmware Update
Vector Initial Configuration
Vector Taranis X9D Binding (Analysis Wizard)
Vector Updated Mode Switch Binding Values
Taranis Mode Switches Voices
Vector OSD configuration and Transmitter Use
Prior to installing everything in the plane, I went through and configured the Taranis x9D and also firmware flashed both the EZUhf and the Vector, as well as configured all the settings for each.  Most of the above is better outlined in the videos.. I linked each section to the video for easier access.
In the video I show how I initially configured the mode switches in the vector, but if you watch onward, you'll see I changed it later to make it easier to get to different modes on the Taranis…

Here is a closer look at that switch positions…
Programming Voices for the switches using OpenTX Speaker and other software
I also programmed voices on the Taranis so when you flip a switch with goggles on, you know what you have done.   I used the OpenTX Speaker software and also boosted the volume in software after saving the initial file from OpenTX Speaker.  You can use Audacity or Reaper for boosting the sound.  I did crank the volume option in OpenTX Speaker to the max for the sound I generated, however I found it wasn't loud enough, hence the need to use 3rd party software like Audacity or Reaper.  In the case of Audacity (or Reaper) make sure to save as 16-bit PCM, and Mono with the sample rate at 16khz or 32khz.  I had seen other people online showing they did it with 22khz settings but for some reason when I used this combination of software it did not work.
Part 3
Video Table of Contents
Build-Wiring updates and placement
AS1-K14 Arming Kit Safety Plug
More placement notes
Airspeed Sensor PITOT placement
RMRC Twinstar FPV Pod Construction
I moved the EZUHF forward a bit, so i could more easily reach the pins if needed…
I installed the Pitot tube utilizing the space under the battery and to the rear by cutting channels in the foam and using CA glue on top of that.
For the POD, I used 1/8″ plywood for the base where the servo sits down in, notching out a square.  For the part that gets screwed into from the top (above picture), I used 1/4″ balsa wood for this.  I used a semi circle of vinyl siding to put at the end of the POD area (white) and a washer.  The screw is just a claw nut + bolt + wingnut from the hardware store.  I used blue thread lock tite to keep the wingnut portion from spinning.  The actual wood in the POD kit was glued together using 5 minute epoxy.
Safety Plug (AS-K14 Arming Kit)
Another mod I did was creating a safety plug on the outside, so the battery could be disarmed quickly if needed, without the need to remove the hatch/canopy.
I used the AS1-K14 Wiring kit, cutting a hole in the side, gluing it in place with hot glue.  There was some soldering involved to make the wiring work.
I also glued a string to the plug so I can just unplug and not loose it.
Part 4
Video Table of Contents
Sony 800TVL Camera Plastidip Prep
Pan / Tilt Prep and Wiring for EzUHF
Initial Placement of EZUHF Module
Current Sensor Initial Placement
Pan/Tilt Components/Wiring in place / Camera Plastidipped
Current Sensor Updated Placement
Dubro Hinges Placement
Servos moving to the rear (HS-82MG)
Battery Compartment for 3S
I moved the current sensor slightly.  This is how everything is currently set up…
In the photo below you can see the channel where I put the Pitot tube using ca (cut out the bottom so it would be under the battery).
Servos moving to the rear (HS81 originally now HS-82MG)
I decided to make a change to where the servos were for the rudder/elevator, by moving them to the tail section.  Here were my initial cuts



Dubro Hinges
Once everything is in place, these cuts need the hatches made.  I used dubro hinges and glued them in place.
Part 5
Video Table of Contents
Wing spar strengthening Mod
Motor Change to 2830-11 Turnigy Motors
Turnigy Plush 30amp ESC conversion 7:29
Pan/Tilt Servo Buzzing issues (HS65MG) 9:09
New Pan/Tilt servos / 4S 4200 / 9×5 counter rotating now 12:00
Finished Wing, Glued together and 30 amp ESCs 13:37
First FPV full flight from takeoff to landing commentary 15:43
Recap on the history of the plane and its weight/motors/amps
Just a fast recap on where I came from with this build.  In 2007 I first built everything, using Ripmax Xtra 28290/10 motors (1200 kv), which spun with 8x4e props at the time at about 8200 RPM (non-counter rotating).  Back then I think it weighed around 45 oz with the keychain camera.
Some stats from back then with the RipMax's:
7x5e: 19.20 amps, 222 watts, 11.55 volts
8x4e: 23.4 amps, 267 watts, 11.48v (without props, 2.63 amps, 12.33v, 32 watts)
Based on this, I knew what sort of amps I should strive for and to me that was at least 23.4, if not higher, as I had seen similar builds to mine pulling close to 30 amps at take-off and cruising between 8 and 9 amps.
I believe it was early 2015, one of my motors decided to die mid flight, the prop mount just flew off and wasn't fixable.  I opted to go with Turnigy SK3-2822 1090kv motors and start the FPV build (New Turnigy motors May of 2015).
Side note:  When I put on these new 2822's in May of 2015, I had to trim back the nacelles to make them fit better.  Also, at the start of the swap to 2822's, I hadn't yet added all the FPV equipment, such as the Vector just yet.
Early June 2015, I still didn't have the EzUHF installed or vector etc, just the 2822 motors (motor #2 of 3).  It was also at this time in early June where I moved from 4000 mah 3S batteries to 3S 5200 Lumenier (briefly).
Mid June 2015, I built a test stand to test indoors the amp pull.  Using 8x5e props + the 2822 1090kv motors + 3S, I was pulling 15 amps max at take off with an AUW of 45.5 oz (pre-fpv components).  Actual flights that were about 7min 40seconds I was sitting 12.08 volts on landing or about 4.02 per cell.. I still had plenty of juice left and should have taken those 3S packs to around 10.7 then landed at most (it would jump to 11.2 or a half volt more once idle on the ground, plenty within the 3.5 per cell range).
I did further flight tests, at one point I did a 14 minute flight and mid flight i was at 11.25 volts and about 10.4 volts on a full throttle push at this point.  This particular test was all done on a 3200mah 3S battery too (still around June 2015).
The Beginnings of FPV additions September 2015 (hatch modifications etc).
After I dug into these FPV mods beginning with the hatch mods earlier in this article around September 2015, where with the RunCam HD (first used in June 2015), I was weighing 65.3 oz (still on the 2822 motors + 3S and about 15 amps takeoff, before going to the 5200mah 3S and BEFORE doing the wingspar strengthening).
But before this, I would work out the buzzing in the servos and wingspar mods, which took some time, an issue I already started documenting the buzzing back in late October 2015 (via other YouTube videos and in this Part 5 video).
That brings us to to this point in the build where I opted to strengthen the wing after seeing cracks near the screw joints (done before the buzzing issues).
Wingspar Strengthening Mods
I also decided to strengthen the wing spar using balsa wood.. i made cuts in each side (two per side) and put a piece of wood that matched the shape of the wings in each one, using Welders Glue.  I also glued the wing spar bar in place permanently and put welders and hot glue to bond both wing halves together.
Around November 4th, 2015, after having done the fpv additions and the above wing mod.. I did a test flight which didn't go so well.  I could not get enough lift (28822 motors + 8×5, AUW now at 69oz, 5200 Lumenier 3S + wing strengthening + 8×5 props).  The video is below and at that point I still had HS65MG servos in the pan/tilt and hadn't swapped to the new 1000kv motor or 4S.  Note the odd discoloration in the video.  The original Surveilzone 800 TVL that I used was having issues and frankly I still think the new Aluminum 800TVL Surveilzone and maybe even the 600 TVL Runcam SC2000 do much better.  I was only pulling about 15 amps at takeoff.
Buzzing Servos on the Pan/Tilt
Just after the Wing Spar mods and before changing motors and props and going to 4S I had to deal with the buzzing of the servos.  I had a lot of issues initially with getting servos to NOT buzz on the Pan/Tilt module.  The HS65MG units gave me nothing but issues.  In the end I ended up with a digital Savox and an MG from Turnigy which did the job just fine (see parts listing at the top).
New Motors and Props,  and 30 amp ESCs along with 9×5 props
I decided after this, that I would try different motors and props.  So I went with 2830-11 motors and 9×5 counter rotating props.  I switched to Turnigy Plush 30 amp ESC's as well.  I had to cut more off the nacelle's but in the end I used the same stock mounts that came with the plane after initially thinking of doing something different such as PVC pipe mounts or other ideas.  I used popsicle sticks to help re-enforce them and they've been fine ever since.
Here is a look at the finished / glued ESCs…

And a wider look at the wing which is now strengthened and glued together…
First FPV Flight Nov 11th 2015 with the new motors + 3S batteries (included in this Part 5 Video/commentary)
It was November 11th 2015, I did the first FPV flight with the HeadPlay HD's and 1.3ghz from take off to landing.   This was after having swapped to new motors and the 9×5 counter rotating props, but before moving to 4S batteries.   A pretty scary first time if you aren't used to FPV nor your surroundings.  Trying to find that tiny landing spot from the air is tricky and I had spotters to guide me in, despite having Vector and its home arrows.  The flight worked out okay, though it still didn't have the pep I was used to at 45oz, where takeoff here is still 22-23 amps.
Here is a snip of what the Vector has to offer on the OSD readout…
Death Spiral Test Flights Nov 15th 2015 
I decided to try more flights test still on 3S and at some point, somehow, mid flight I ended up in death spiral on a slow turn (under 21 mph most likely + turn).  Note per the video below, I was still pulling around 22 amps on takeoff, still a tad under my goal of 27-28 amps.  So it would seem with a heavier TS2, gone were the days of using 3S and trolling around the skies at nearly no throttle, at least for now…
A move to 4S Batteries
This prompted me to move to 4S batteries, which I ended up going with the 4S 4200mah Lumenier battery.  Since then I've had no real issues and my amps are more in line with how I wanted them, as well as fast upward climbs on takeoffs.   Several test flights in, now on 4S, i'm pulling a more beefy 26-27 amps on takeoff and she pulls the 74.5 oz just fine, especially with 9×5 props (going smaller would reduce the amps a bit, so I'm sticking with 9×5 on 4S).
I tend to slide the 4S battery a bit backward now to keep things in balance and it works well, pretty much at or just ahead of the blue tape (closer to nose than in this picture by maybe 0.25″).
Here is one flight from March 12th 2016 on the 4S (I have many more on the website under RC, including some with my V303 XK Detect quad):
And that's it for now.. Look for updates in the form of related articles on the Twinstar II on the site in the future…in the meantime…calm skies and happy flying